Opening New Doors to Empower Learning
Welcome to the "FALCONS"
Ages 12 - 14 (Junior High)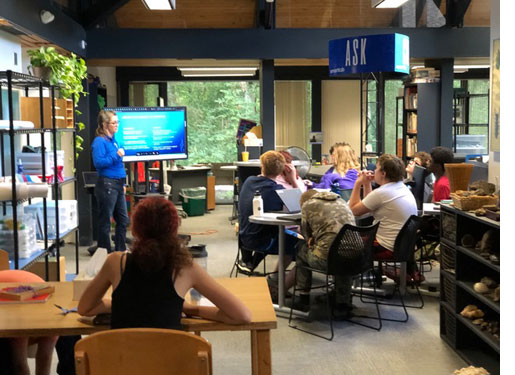 The Falcon class is made up of students grades 6 to 8. Work combines the child's natural love of life and learning with the values of hard work and self-discipline. Individual research projects are carefully monitored, evaluated, and recorded to ensure progress. The curriculum is designed to allow flexibility and accommodate a student's unique abilities and interests. Students delve deeply into the subjects of mathematics, English literature, language arts, writing, prehistory to 20th-century history, biology, chemistry, physics, geology, ecology, art, and foreign languages. Applying new knowledge to new contexts, students explore their personal passions inspired by their academic work and participate in online electives covering a wide range of subjects.

Jayne Woodward – Lead Guide, Science
Sara Bullwinkel – Language Arts Guide
Tasha Williams – Tutor
Andrew Hahn – Social Studies Guide
Mia Joy – Interventionist         
Olivia Westfall- Poetry
Verna Reed- Math Guide
 
Each year there are four nine-week quarters of academic work followed by an "Explore Week" – a time for students to volunteer for school projects or for the greater Springfield community. We take field trips (often planned by the students) to connect students with the larger world and help them apply knowledge in new ways. During Explore Week, students are given time to discuss their personal goals and journey through adolescence.
Introduced to the Montessori "Erdkinder" program, Falcons learn more about Earth care, permaculture, and microbusiness opportunities. The curriculum helps young adults understand themselves within a wider frame of reference as they make the transition into responsible global citizens. A true metamorphosis takes place.