Opening New Doors to Empower Learning
Welcome to the "WINGS"
Ages 14+ (High School)
The Wing class offers a home-base environment for the 9th through 12th grade students. Many students venture throughout the day to Clark-State College and Wittenberg University for Post-Secondary coursework and/or other electives. Some students arrange for out-of-school internships where they can explore their passions and develop new interests. One of the goals for Wing students is that they learn to honor and respect each other in new ways each day.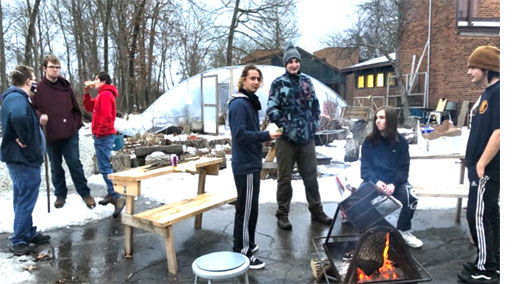 Our class is an inclusion environment where students on many spectra and are welcome to craft a unique learning environment. The Wing staff strives to stay in the background during the student's day as they explore their world. In addition to classes at Nightingale, Wing students try out several elective classes through online sources such as Aventa K12. Our High School program was designed several years ago when a few Falcon students, feeling frustrated with the restrictions imposed by the traditional structure of public high school, asked to extend their individualized program of study through their high school years.
Sarah Bullwinkel- Lead Guide, English   
Jayne Woodward – Science Guide
Andrew Hahn – Social Studies Guide, Erdkinder
Todd Kreeger – Erdkinder Guide
Verna Reed – Math
Jared Martin – Erdkinder Guide
Stephanie Woodward- Erdkinder Guide
Post-Secondary Option: Once students have reached the 11th & 12th grades, they can choose to participate full time in the Post-Secondary Option Program or divide their time between NM and university classes.
Many students entering high school have thus already accumulated more than the required number of credits. They have the option of participating in the State of Ohio Post-Secondary Option Program which allows students to take university credits and receive both high school and college credit for the course. Sponsored by Nightingale Montessori, this option enables students to accumulate credits faster and makes it easier for them to accommodate the demands of both schedules.