IV. NM Institute for Teacher Education
Teaching student teachers is integral to the operation of the school and builds excitement in education. Teachers learn with the same energy and enthusiasm as the children!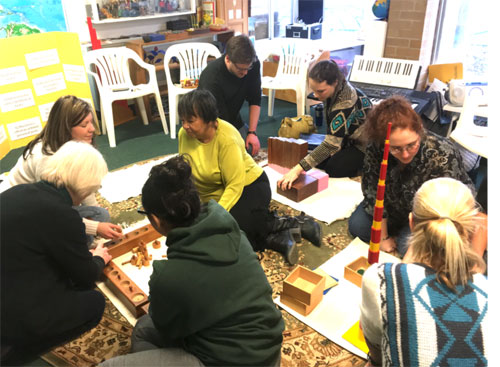 Accredited nationally by Montessori Accreditation Council for Teacher Education (MACTE), the Nightingale Institute for Teacher
Education was established in 2015 as a collaborative venture with a consortium of universities in the Springfield area. 
NM offers a certificate in pre-primary Montessori education through MACTE, a nationally accredited organization. The classrooms at Nightingale serve as a Lab School and demonstration site for showcasing crucial education and social reforms so needed in our nation's public schools. We are a site for interning Early Childhood Education degree students from area universities.
The NMITE program has been suspended temporarily due to the school's transition and the pandemic period.
---
Innovative Approach to Teacher Training at NMITE:
Teachers discover the key principles of individualized education
as they learn to nurture the innate traits of every child:
Inborn curiosity and thirst to understand

Unbridled desire to perfect their skills through purposeful effort

Impulse to use their imagination, recreating beauty and order in their work

Capacity to form critical judgments based on hands-on experience

Power to use this judgment in the exercise of higher-order thinking

Predisposition to absorb cultural values and priorities

Inner drive and energy to improve their skills